Call Us:

+91-(882)580-2985
Email Us:
info@akscode.com
Hospital Software Source Code
Hospital management software allows management of all the services and operations of a healthcare institution. Aks Soft Hospital provides you with out of the box functionality to have a unified patient view and manage processes regarding OutPatients, InPatients and Emergency. We turn the digital dreams of our clients into a reality. We work closely with our users throughout development to ensure that we are still aligned with the end-goal. Our goal is to provide a high-quality Clinic Management Software that aligns with your hospital/clinic needs. We pride ourselves on providing professional customer service. We are committed to producing exceptional hospital/clinic Management software for each of our clients. We find the best solution to suit your needs and are not limited by platform. This is possible when you have your own brand app for appointment booking, sending notification & reminders for follow up's & maintaining their health records. We are dedicated to make your digital dreams come true. We build great websites according to your needs and requirements. Our Hospital guarantees your data quality throughout the user experience, from patient registration to patient discharge. All patient-relevant data will be consistently accurate, giving you visibility of overall institutional performance and real-time.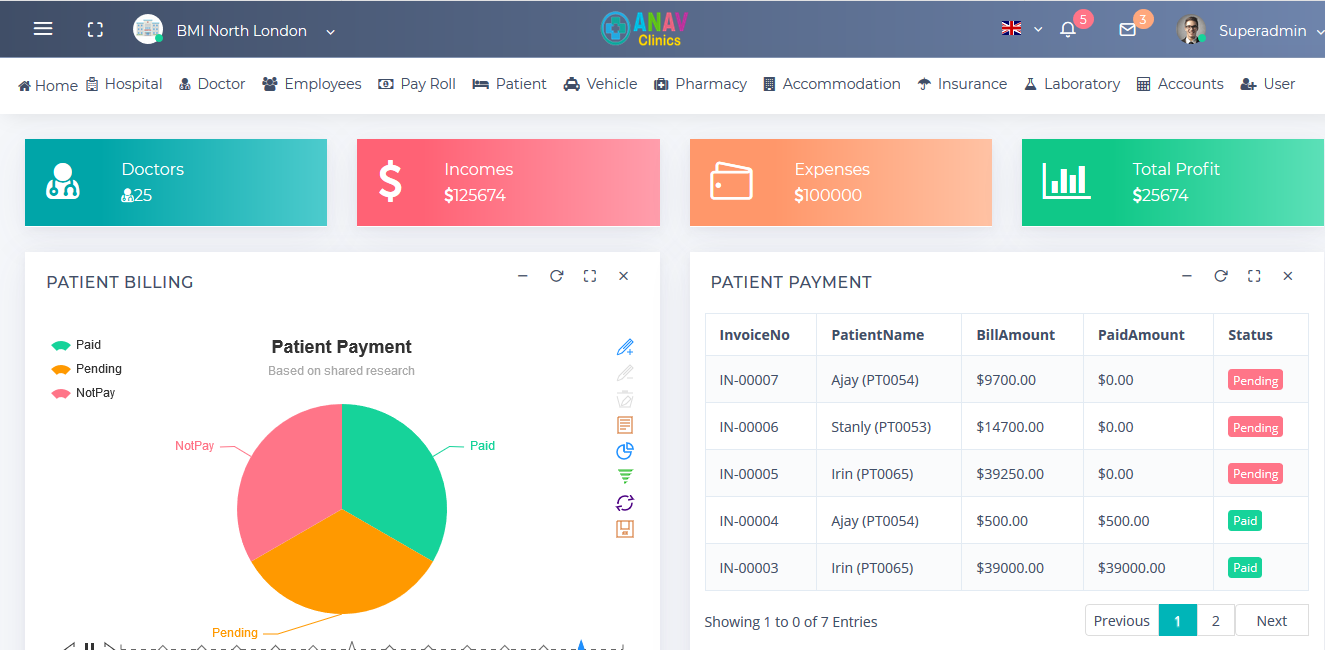 Our software able to gather and maintain accurate information about patients is a big challenge every hospital faces today. Besides the issues facing data quality, there is also a productivity issue, as people are used to manual procedures and do not feel comfortable switching from paper-based processes. We looks to leverage its usability, adaptability, and overall user-friendliness to break the cultural threshold of paper and gain the adoption rate, boosting overall productivity and efficiency in hospitals. No more writing long prescriptions or misplaced papers on follow up. No more remembering & guesswork. Our Prescription feature enables you to provide a paperless experience to your patients, with digital & printable medical records anytime. That's healthcare for 21st century, delivered with ease.

Hospital Management Software on Cloud


Real-time Work and transactions


Extensive Data Import and Export Capability


Detailed Reports and generations


Live Updates and deletion with Audit Trail


Multi-Tasking, work same time in different module


Auto management work for all documents and display


User based quotes, invoices, orders etc


Extensive Data Backup for future


Multi company and Data Backup management


Software Cost Estimation


Scheduling for automize Data Backup


Export reports to PDF, HTML, IMAGE


Highend Dashboard and notifications


Automatic Process for Year Ends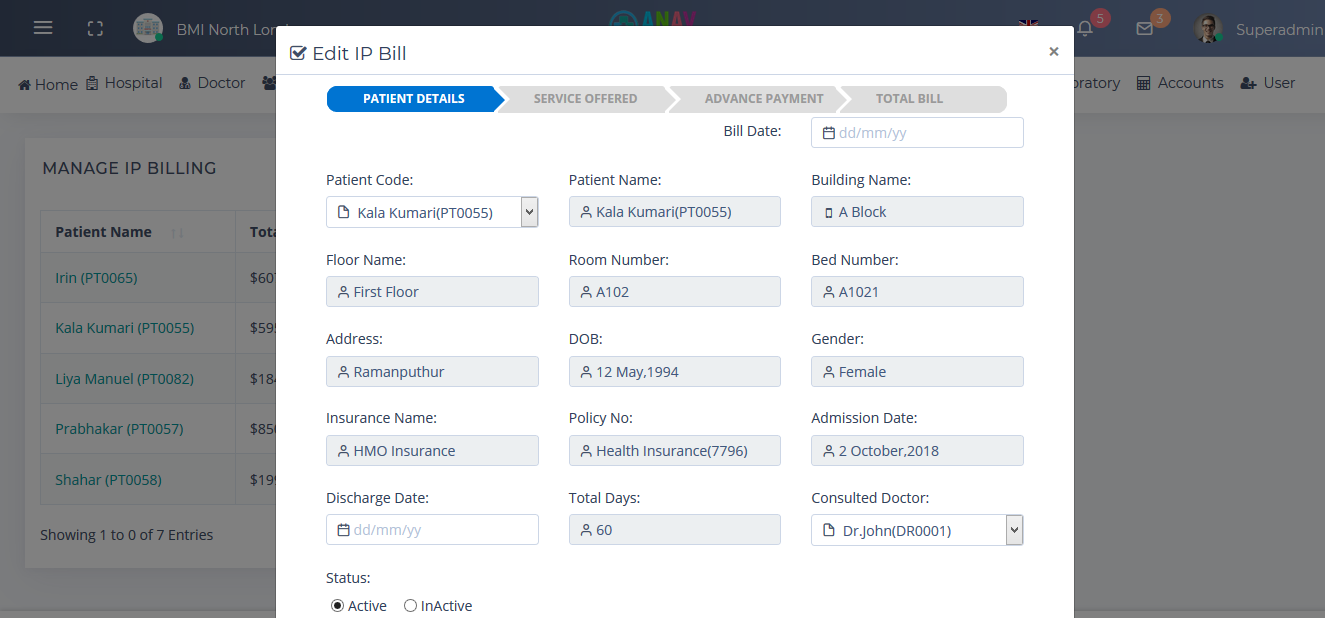 Aks Soft specializes in deploying the latest technologies to digitize the enterprise Erp small, medium, or large and develop the business solutions to help your businesses processes by transforming the customer experience, responding quickly, automating invoice processes, mobilizing operations and optimizing your softwares. The main important is business drivers and business processes varies with companies and regions. Business process management for any corporate involves workplace management and business process and performance management and it presents to you with the great experience and expertise of end-end systems. We are specialized to global full service technology solutions provider, lead by Business and Technology Consulting. Aks Soft is engaged with 300+ global clients and our client engagements in 35 countries and provides custom software according to the business needs and this provide customized software solutions that support unique combination of platforms and applications that address cross-functional business requirements of our clients.

Aks Soft partners with most of the popular online ERP and invoicing systems for simple integration. Aks Soft is a leading company in developing the ERP CRM softwares. We develop in ASP.NET 4.5, MSSQL 2012, C#.Net, Window Server. Aks Soft is a global solutions provider for web and mobile based applications across industries. We have many satisfied clients worldwide. We founded in 2006 by having 2 development centers presently. We also develop the ERP for many clients based on client requirements in Offshore Development process. We are working on exciting new ways to integrate enterprise databases with smart phone applications. Mobile devices are indispensable part of our lifestyle and are becoming inseparable part of corporate enterprise architecture as well. With rapid development on various fronts such as security, controlled data access, data synchronization, release management, configuration management, the enterprise wide adoption has grown exponentially. Today mobile support solutions are creating true enterprise value and increased productivity.



Aks Soft is delivering the full custom Hospital software solutions.


We guarantee the Best Premium Support providing to all over clients worldwide.


Aks Soft is the worlds #1 online cloud solution.


Our software interface is easy to use and world class structure.


It is fully automated system that suports global school and hospital system.


Our developers do all types of customization in school and hospital softwares.


Aks Soft is leading provider of customized Cloud Web development, Customized Software and Marketing solutions.

Our Features:-


Custom Application Development


Cloud Web based Development


Mobile Application Development


Application Development and Maintenance


Business Consulting Services


Enterprise Resource Planning


Quality and Testing Services


Technology Build Services


Application Managed Services


Infrastructure Managed Services

Hospital Modules
Tools Used:-


ASP.NET 4.5, C#.Net, MSSQL 2012


Windows Based Hosting Server

User Accounts:-


SuperAdmin


Admin Login


Doctor Login


Employee Login


Patient Login


Nurse Login


Receptionist Login


Pharmacist Login


Accountant Manager Login


Labortarist Login

Front Desk:-


Dashboard Home


Hospital


Manage Hospital


Manage Building


Manage Floor


Manage Hospital Rooms


Manage Events


Manage News


Holiday List


Reports


Occupied Room


Vacant Room

Doctor


Doctor Setting


Manage Designation


Manage Specialization


Manage Department


Manage Blood Group


Manage Doctors


Manage Appointment


Manage Doctor Attendance


Lab Test Result


Manage Doctor Leave Apply


Approved Leaves


Cancelled Leaves


Doctor Commission


Refer To Doctor


Refer By Doctor


Doctor Work List


Reports


Personal Details


Available Details


Appointment Details


Leave Details

Patients


Patient Token


Patient Setting


Manage Patient Status


Patient Type


Patient Registration


Patient Appointment


Patient Prescription


Lab Test Result


Patient Progress Status


Blood receiver


Operation Enrollment


Injection Enrollment


Child Birth Enrollment


Patient Death Enrollment


Patient Room Alloction


Patient Billing


Reports


Patient Details List


Patient Allocation List


Admission Info


Patient Status Info


Discharge Details

Employees


Employees Setting


Manage Employee Type


Manage Employee Designation


Manage Department


Manage Employees


Manage Appointment


Manage Staff Attendance


Manage Staff Transport


Manage Staff Leave Apply


Approved Leaves


Cancelled Leaves


Bank Details


Staff Leave Approval


Staff On Leave Details


Reports


Hospital Staff Details


Personal Details


Department Details


Contact Details

Staff Payroll


Salary Structure


Manage Payroll


Manage Earning Type


Manage Deduction Type


Manage Leave Types


Manage Overtime


Generate Payroll


PaySlip


Quick PaySlip


Generate PaySlip


Leave Approved


Reports


PaySlip Report


Earning Report


Deduction Report


OverTime Report


Pharmacy Management


Pharmacy Setting


Medicine Category


Supplier Category


Purchase Order


PURCHASE ORDER


PO Payment List


Pharmacy Billing


INVOICE LIST


Invoice Payment List


Stock List


Medicine Category


Supplier Category


Manage Supplier


Manage Pharmacy


SubMedicine Category


Medicine List

Laboratory


Manage Laboratory


Laboratory


Blood Donar


Blood Bank


Lab Test Details


Scan Details


Blood Receiver


Reports


Laboratory Test


Blood Donar


Lab Test


Scan Test Report

Insurance


Insurance Setting


Manage Insurance


Reports


Insurance Details


Policy Details


Patient Details


Mediclaim Details

Reports


Store Category List


Supplier List


Purchase Order Info


PO Payment


Invoice Payment


Pharmacy Stock

Staff Accommodation


Manage Accommodation


Manage Hostel


Manage Rooms


Manage Rooms Allocation


Vacate/Transfer Rooms


Manage Hostel Visitor


Manage Clock In/Out


Reports


Hostel Room


Hostels Details


Visitor By Doctor


Visitor By Employee


Hostels Transfer

Hospital Vehicle


Vehicle Setting


Manage Routes


Manage Route Fees


Manage Transport Discount


Manage Vehicle


Manage Vehicles


Manage Drivers


Manage Assign Transport


Manage Transport Fine


Manage Doctor Vehicles Entry


Staff Vehicles Entry


Manage Vehicle


Reports


RouteFee Wise Report


Route Wise Doctor


Route Wise Employees


Route Drivers Report


Discount Report

Accounts


Dashboard


Manage Accounts


Transaction


Day Book


Cash Book


Bank Book


Finance Report

Users


User Setting


User group Permission


Manage News


Manage Events


Change Password