Call Us:

+91-(882)580-2985
Email Us:
info@akscode.com
Ecommerce Software Source Code
AKS Soft is an integrated business management solution designed for growing companies that want the freedom to focus on their business. With real-time updation of all transactions, turn your data into business critical information quickly and simply. Experience the power of AKS Soft and see productivity jump manifold in your company.



Ecommerce: Online Shop Dashboard, Product, Product Category, Customers, Orders, Invoice, Shipments, Activity, Features, Material, Strap/Handle, Style Bags, Colour, Size, Credit Memos, Currency, Choose Currency, Brand, Testimonial, Product Rating, Recent Post, Subscriber, NewsLetter and Special Offer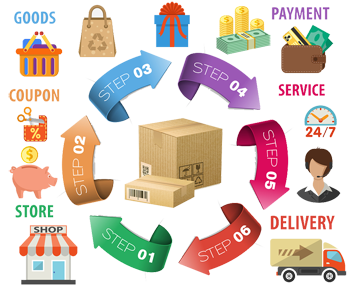 All Reports:




Sales Based Reports: Sales by Product, Sales by Tax, Sales by Date, Sales by Customer, Sales Report, Sales by Partner, Sales Analysis, Sales By LeadSource, Sales CycleDurationLeadSources, Sales CycleDurationOwners, Sales CycleDuration PotentialType, Sales OrdersByAccounts, Sales OrdersOwner, Sales Ordersstatus, Sales PersonPerformance and Sales ReceiptAnalysis



Invoices Based Reports: Invoice VAT, Invoice List, Invoiced List, Invoice Summary by Day, Invoice Summary by Payment, Invoice Summary by Tax, Invoice Summary by Partner, Invoices Analysis, Invoices By Accounts, Invoices By Status and Invoice ListByInvoice



Inventory Based Reports: Incoming Inventory, Inventory by Category, Inventory by Group, Inventory Report, Inventory by Product, Stock Report, Stock Movement, Stock Movement Summary and Stock Valuation



Reports: Work Order List, Produciton List, Work Item List, Work Hours List by Project, Partner Balance, Customer Ageing, Supplier Ageing, Trial Balance, Partner Balance, Bank Statement, Cash Flow Statement, Chart of Account, Customer Payables, Customer Receivables, Day Book, Warehouse Balance, Balance Sheet, OverDue Payables, Overdue Receivable, Profit/Loss Account, Profit/Loss Detail, Profit/Loss Report, Account Statement, Equity Changes, Account By Industry, Amount By Vendors, Appraisal Analysis, Campaign Leads, Campaigns Revenue, Cases By Comments, Cases By Origin, Cases By Priority, Cases By Status, Contact Mailing List, Contacts vs Purchases, Cumulative Flow, Entries Analysis, Forecast History, Key Accounts, Orders Analysis, Overall Duration Lead Sources, Overall Duration Potential Type, Phone CallsAnalysis, Pipeline Probability, Pipeline Stage, Popular Solutions, Potential ClosingMonth, Potentials By Type, Products By Cases, Products By Category, Products SupportTermination, Quarterly ForecastSummary, Recruitment Analysis, Stage Vs PotentialType, Tasks Analysis, Tasks and Events, This Month Sales, Today Sales, Todays Calls, Todays Leads, Treasury Analysis, Vendors vs Purchases and Purchase ReceiptAnalysis



Customer relationship management: Improve customer service, increase cross-sell and upsell opportunities.


Business intelligence: Make smart decisions with easy-to-use reporting, analysis, and business intelligence tools.


Each Modules have Dashboard, Settings, Reports and Control panel

AKS ERP CRM on Cloud


Real-time Work and transactions


Extensive Data Import and Export Capability


Detailed Reports and generations


Live Updates and deletion with Audit Trail


Multi-Tasking, work same time in different module


Auto management work for all documents and display


User based quotes, invoices, orders etc


Extensive Data Backup for future


Multi company and Data Backup management


Software Cost Estimation


Scheduling for automize Data Backup


Export reports to PDF, HTML, IMAGE


Highend Dashboard and notifications


Automatic Process for Year Ends


Ecommerce Software Modules
Manage Orders:-


Manage Sales Order


Sales Order History


Credit Memos


Sales Man

Invoices:-


Manage Invoice


Paid Invoice

Customers:-


Manage Customers


Customer Activation


Paid Customers


Unpaid Customers


Block Customer


UnBlock Customer


Send Message


Message Inbox


Message Outbox


Change Password


Customer Live Status


Customer Login Timing


Send SMS

Packages:-


Manage Packages


Dispatch Order


Delivery Methods

Purchases:-


Purchase Order


Purchase Receive


Purchase Return

Vendors:-


Manage Vendors


Change Password


Vendor Bills

Inventory:-


Manage Product


Product Category


Product Type


Product Rating


Inventory Adjustment

Marketing:-


Promotional Offer


Subscriber Offer

Accounting:-


Account Category


Manage Expense


Manage Income


Fund Transfer


Debit User Fund


Withdraw Payment


Withdraw Payment History

Settings:-


Manage User


Manage Role


User Permissions


Role Permissions


Manage All Recent Post


Manage All Special Offer


Manage All Testimonials


Manage Title


Manage State


Manage Country


Manage Currency


Manage Company


Manage Company Setup


Manage Taxes


Manage Payment Mode


Manage All Subscribers


Subscriber Paid


Upload Document


Promotional Ads

Reports:-


Orders Report


Sales Order History


Order Count


Ordered Product


Sales By Customer


Sales By Item


Invoice Report


Invoice History


Product Sales


Purchase Orders Report


Purchase By Vendor


Purchase By Item


Purchase Order History


Bill Details


Vendor Balance


Customer Accounts


Vendor Balance



Customer Accounts

Customer Balance

Inventory Details

Payments Made History

Payments Received

Shipping Report

Packing History

Receive History

Best Seller

Tax Report

Company General Reports
Vendor Login Panel:-

Vendor DashBoard

Manage Vendor

Purchase Order

Product

Vendor Bills

Product Rating

My Account:-

Manage Orders

Account Dashboard

My New Order

Cancel Order

Return Order

Order History

Ewallet Balance

Membership Status

Membership Expiry
My Profile:-

Personal Information

Profile Address

Change Password

Address Book

Profile Settings

Update Email/Mobile

Deactivate Account

Notifications

Email Preferences
Messages:-

Send Message

Inbox

Outbox
My Stuff:-

My Reviews and Ratings

Recommentations For You

My Whislist

My Tags

My Product Review

Membership Subscription

Promotional Ads
Payments:-

EWallet Fund

My Saved Cards

My Bank Details

Fund Transfer

Withdraw Fund

Pending Withdrawal History

Paid Withdrawal History

Manage Website pages in Admin

Manage News & Events in Admin

Manage Banners in Admin

Manage Testimonials from Admin

Online Joining system

Online Member Login System

SMS Integration (Optional)

E-wallet Hitech Security System

Fund Transfer Security System

E-mail Message System

Bulk E-mail Message System

All Categories Listing

Search Categories & Products

Veiw Cart Count and products

Offers Image View

Newsletter Subscription

Testimonials View

Users Review

Recent Posts

Latest Posts

Product Tags

Quick View

Wishlist Management

Add to cart

Product View

Customers Review

Products View 4 images layout

Products Description

Products Tags

Products Additional Information

Products Reviews

Related Products Display

Products Sort Popularity Price

Products Sort Low to High Price

Products Sort High to Low

Products Sort Newest First

Price Filter in Product Page

Optional Filter in Product Page

Products Cart View

Interested Products Display

Checkout Layout Dynamic

Shopping Registration

Login Credential Check

Delivery Address

Order Review Process

Payment Gateway Process